Equipment
The right advice, the right equipment, the right price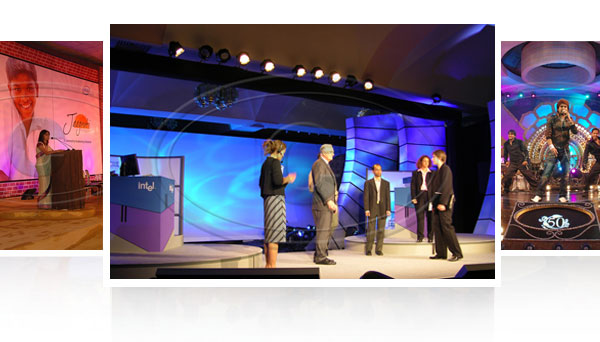 Equipment of leading brands that we use and stock


36 years of being in the industry has given us the experience and expertise that is required to provide top of the class services to all our clients. And this has only been possible because of our commitment to constant learning, innovation and capacity for change. In this industry, technology changes faster than the speed of light and keeping up is absolutely necessary. The process may be time consuming but we indulge in it to ensure that our customers are privy to equipment that are indeed updated and world class.

Our 40,000 sq. ft. warehouse is home to a large variety of advanced equipment that can help you organize a host of events for your organization. We only provide equipment that is tested, serviced and is in working condition when it is checked out from our premises.

The equipment we stock are available for rent and purchase and if you have difficulty in understanding what it is that your organization needs at a certain juncture, our excellent service staff will be able to guide you and help you with picking out the right equipment for unmatched productivity. We will also provide you with any technical support that you will need in maintaining the products.

You could need a simple LCD projection or a full stage set up; we will guide you at every step and provide you technically enhanced equipment at competitive rates.

Today, an organization needs the assistance of technology to compete in this global market. Our experts understand the market and can provide you with the solutions that you need to ensure that your proficiency is maintained and your reputation is not marred because of various technological inefficiencies that may arise during events and meetings.

Hire Stock:
Our technology keeps getting updated at regular intervals, so do not hesitate to call us for any requirement that you may have.

Speakers - Bose/JBL/Mackie/JBL Turbosound/RCF Art/Dash/EAW

Mixers - Spirit/Mackie/Allenhealth/ Yamaha/Crist

Microphones - Shure/Senhisser/AKG/Sony

Players/Recorders -Pioneer/Tascam/ Edirol/ Marantz

Complete PA System

Accessories - DBX/Lexicon/Lynx

Silmultaneous Translation Equipment


Generic Light - Vari*Lite/Clay Paky/Coemar/Martin Professional

Led - Pulsar/Pixelrange/GLP

Disco Lighting - RMLl/Procan/OXO

Moving Heads - Vari*Lite/Clay Paky/Coemar/Martin Professional

Gobo & Branding Projection - Clay Paky/Couler Wash

Control - Pulsar/Liteputer/Zero/Avolite

Spl Fx - Martin Magnum/Studio Due/Novalight/Spotlight


Projectors - Panasonic/Sanyo/Christie

Projection Screens - Da Lite/Sima/Projecta/Screen Innovations

Displays - Samsung/Sony/Panasonic/LG/Pioneer

Players/ Recorders - Pioneer/Panasonic

Video Equipment - Sony/Sanyo/NEC/Vivtek/Mitsubishi

Switchers/Scalers - Extron/Edirol/Panasonic/Kramer

Laptops - Sony/Dell/HP/Compaq

Led walls & Plazma's