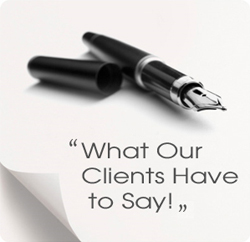 Thank you all, for all your hard work in making our event such a success.



As always the services and facilities were first class. I look forward to holding more events in future.



I was impressed and pleased with your team's professionalism. They made the event a resounding success. I shall never hesitate in recommending Chopra Audio Visual.



This event was certainly the best I have delivered in my 10 years of managing events for CII. Chopra Audio Visual excelled in all areas, were professional at all times, always delivering to exact requirements and very very tight time scales.



I could not have asked for more friendly and competent staff. Chopra Audio visual's team were a pleasure to deal with and deliver exactly what was required.



Throughout the years we have worked with Chopra Audio Visual, they continued to offer new ideas, creativity on each occasion and at all times completed each project within the budget. I am confident that with CAV continuing in the same manner as it has been in the past .NIIT will continue to utilize CAV in all the future projects.



Thank you for the excellent service which as usual Chopra Audio Visual gave us. It is always good to know we can rely on you and your team.



A very big thank you to you and your team for making everything run so smoothly. I am very much looking forward to working with you again.